Zaragoza (EFE).- Starting this Friday, the exhibition "Zuloaga, Goya and Aragón: the strength of character" brings together the talent of two great universal artists, Ignacio Zuloaga and Francisco de Goya, at La Lonja in Zaragoza. The 192 works that make up this unique exhibition can be visited until January 8 and will make it possible to retrace the link between the two figures.
It is a work, according to the deputy mayor and cultural adviser of the town hall of Zaragoza, Sara Fernández, which "has nothing to do with the previous exhibitions" on Zuloaga in the city.
In fact, it is an unprecedented exhibition, aimed at the general public and specialists in the art and history of Spain, which includes 192 works, including oil paintings, drawings , watercolors, sculptures, documentation and elements of the decorative arts; 39 of them from Zuluaga and 18 from Goya.
The exhibition space, presided over by the painting 'The victim of the party', is divided into eight different sections. They start with admiration for Goya and go through the artists' family origins and socio-political concerns. They also talk about customers, entertainment and shows, the metaphor of Spain, the Aragonese landscape and, finally, they come to the link between Zuloaga and the Aragonese painters.
Fascination for Goya
The exhibition is based on Zuloaga's fascination with Goya, a feeling he expressed in various ways and which lasted throughout his life.
In fact, the Basque painter copied a work by the Aragonese at the age of sixteen, during his first visit to the Prado Museum. And at thirty, he has become an expert in his work. He acquired some of his paintings, authenticated others and advised collectors on Goya and collected numerous books, photographs, postcards and documents on the master of Fuendetodos.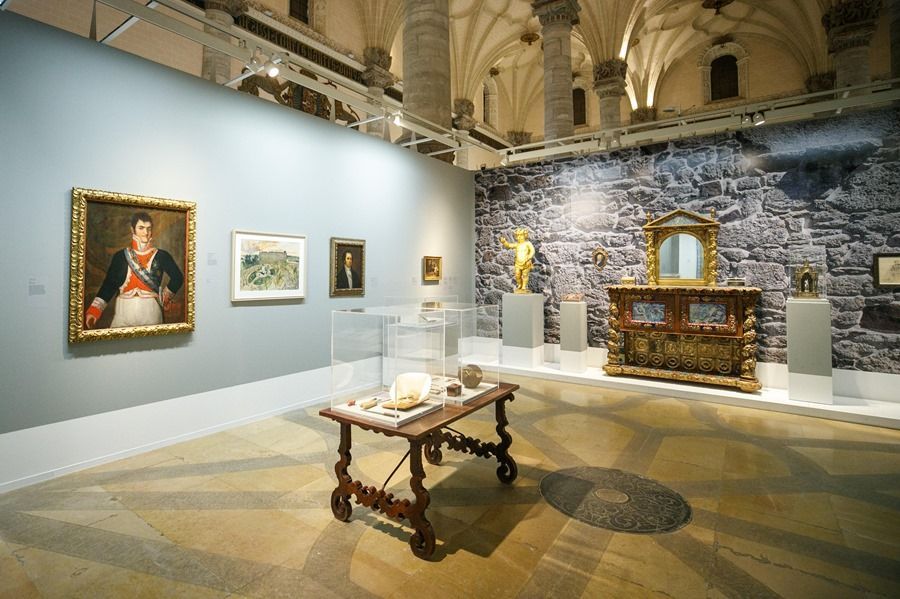 As the curator of the exhibition, Margarita Ruyra de Andrade, points out, the exhibition has carried out "a thorough and thorough investigation in the archives of the Zuloaga Foundation" and provides access to "numerous original documents", exhibited in showcases.
He bought the painter's house in Fuendetodos
"The objective of this exhibition is to express Zuloaga's reception of Goya", as stated by the other curator, José Ignacio Calvo. He affirmed that Zuloaga "laid a very important brick in the revalorization of the figure of Goya". In fact, as he pointed out, he even bought the house where the Aragonese painter was born.
Zuloaga, one of the most renowned international artists of the first half of the 20th century and a great admirer of Goya's work, was particularly interested in Aragon, traveled and painted many of his landscapes, which led him to establish an intense relationship with his land and its inhabitants.
Edited by Isabel Poncela