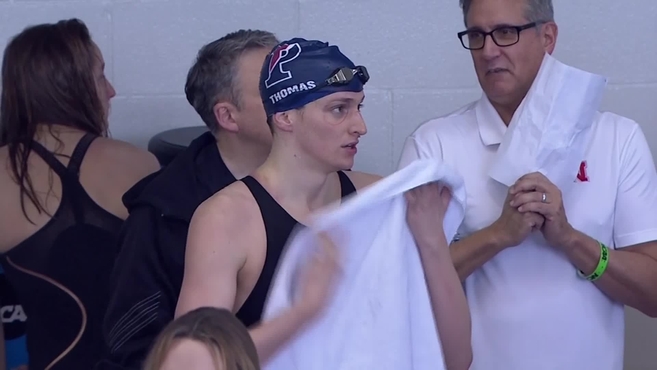 Ttransgender swimmer Leah Thomas from University of Pennsylvania sparked outrage after winning the 500 yard freestyle race at NCAA Swimming Championship.
Women's rights protesters are outraged that Will Thomaswho recently changed his gender and now goes by the name Leah, unfairly stole the glory of biological female competitors.
"There is a man named Will Thomas, who changed his name to Leah Thomas, who competes in women's swimming," Kelly-Jay Keene, head of Standing for Women, told Fox News.
"Women are not considered complete human beings.
"We can't be, otherwise there wouldn't be an opportunity for men to compete in women's sports."
Thomas's victory speech received mixed reactions from the crowd, with some sections booing the athlete during the speech, while a smaller minority cheered.
"It's the man that's pushing the women out. The woman who came in second today is the real winner," Annabelle Rutledge, director of Caring Women for America, told Fox News.
"Only women can win the women's championship in swimming and diving."
The swimmer will also take part in the 200 and 100 yard freestyle swims this coming weekend.