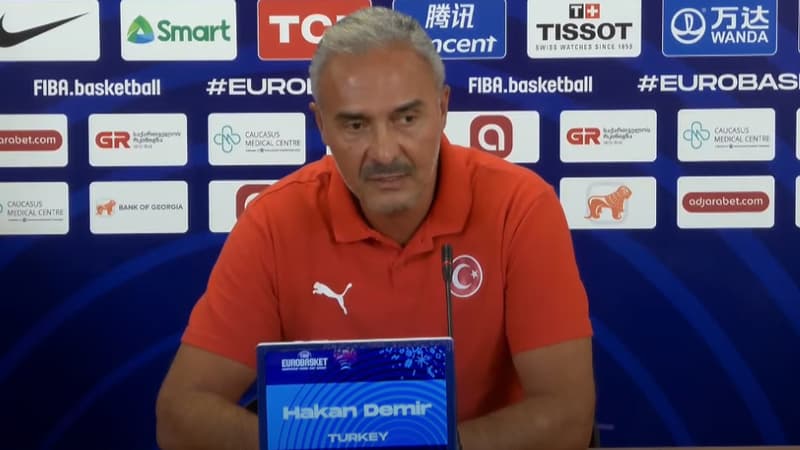 Turkey threatened to leave Eurobasket after they were beaten by Georgia (83-88) after they reported that one of their players, Furkan Korkmaz, was attacked in the tunnel leading to the dressing room.
In Tbilisi, the hosts of the European Basket Group A, there was a sad scene on Sunday night. The atmosphere during the meeting was very tense. In the fourth quarter, Korkmaz and Sanadze had a serious quarrel on the court.
Turkish players for the Philadelphia 76ers were even left out. When the game stopped, the clock continued to tick for 22 seconds. This is also the subject of Turkey's claim. But the sequel will take it to the next level.
The Turkish delegation claimed that Kolkmaz was attacked by the Georgia substitute in the corridor as he returned to the dressing room. To make matters worse, security would attack Turkish players along with these Georgian substitutes.
"A huge scandal"
In a news conference, Hakan Demir, assistant to coach Elgin Ataman, who was excluded during the meeting, said of the incident: "We're here to play basketball. It's a big scandal. It is not advisable for the sport to have such a team (Georgia). What happens in the tunnel or the locker room is not sport. We expect more hospitality and gentleness. We are sorry, we are angry "We came here as friends. On the pitch, there was tension between the players. Okay, something happened on the scene. But after chasing our players, three Georgian players and security got involved in a fight. This is unacceptable. »
Via Turkish media Sportx, Turkish Basketball Federation vice-president Omar Onan accused FIBA ​​of not ensuring the safety of players and demanded that CCTV camera images be released quickly or he threatened to leave the game in Tbilisi.
"Let them present all the images of this corridor in front of us minute by minute, minute by minute," insisted Omar Onan. If they don't bring them, I talked to President Hidayat, we Will leave this game. We have had European Championships for years and no one has been hurt. Here, 12 players in the hallway; we almost got into a fight with the Georgian police… We said "open" and they weren't open. Georgians Back to the discussion… The biggest mistake here comes from FIBA. Since the day we arrived, there have been a thousand failures. Players go from hotel to room in 45 minutes. If you can't keep players safe, you don't Do your job. We spoke to the president of Hedayet and we asked for security. Obviously, they didn't protect us. As I said, they'll bring all the camera tapes in front of us and we'll see what happens What…everyone will see. If they don't deliver, we'll be out of the competition. For the time being, FIBA ​​Europe, the organiser of the event, has not made a statement.