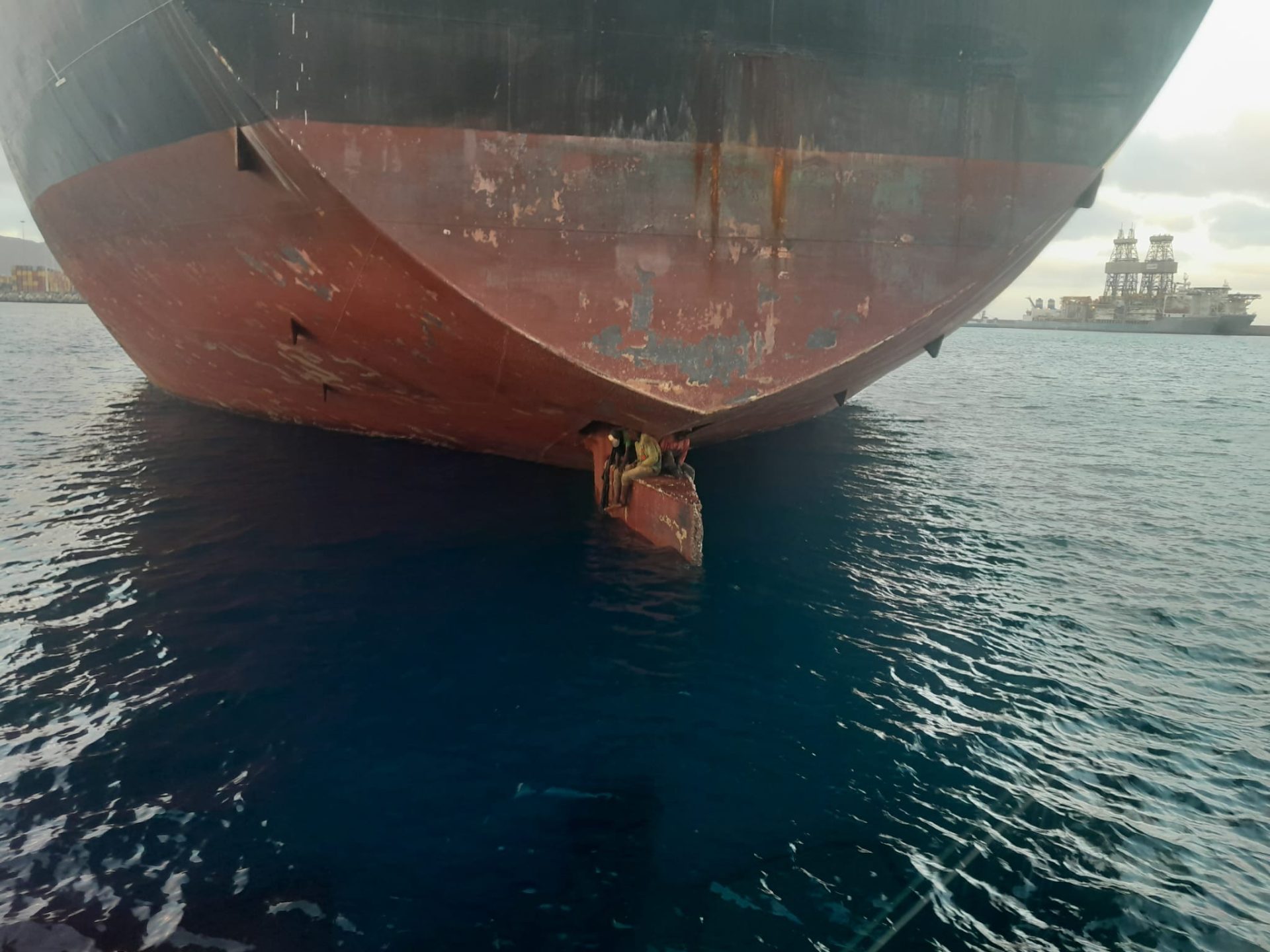 Las Palmas de Gran Canaria (EFE).- Three men of sub-Saharan origin have been hospitalized with moderate dehydration after surviving an eleven-day voyage across the Atlantic sitting on the rudder of an oil tanker, from the port of Lagos (Nigeria) to that of Las Palmas de Gran Canaria.
The three were rescued this Tuesday by the Salvamar Nunki in the port of the capital of Gran Canaria, after being seen in this dangerous part of the hull of the ship, with barely half a meter of their feet in the water, as seen in a photograph provided to EFE for maritime rescue.
The emergency medical assistance provided them with first aid at the sports dock, as soon as they disembarked ashore, but they were immediately referred to the Doctor Negrín hospital (two of them) and to the island hospital (the third), given their situation, they informed Efe a spokeswoman for the 112 of the Canary Islands.
Stowaways at the helm of the tanker
The three men were traveling stowaway on the Maltese-flagged tanker Alithini II, which left Lagos on the 17th, according to data on their route collected by maritime tracking portals Vesselfinder.com and Marinetraffic.com.
The place where they were found is a small space in the upper part of the rudder, outside the hull, under the stern, in the open and at the mercy of any blows from the sea.
It is not the first time that stowaways have been detected in the port of Las Palmas de Gran Canaria in such a dangerous part of the ship: in November 2020, three other people were found in the rudder of the Ocean Princess II , a San Vincent and the Grenadines; and a month earlier, three more on the Champion Pula, another Norwegian tanker. Both ships had left Lagos.