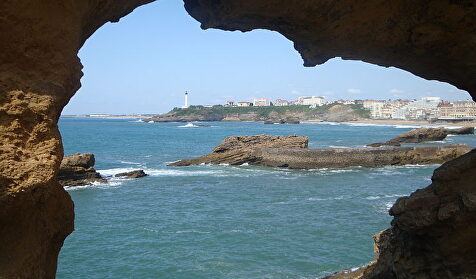 Now that the last stretch of summer begins and my series of trips to France ends, I am going to conclude it with memories of those summers in Biarritz, almost always in the last weeks of August, when the campers started the march. Summers is closely related to our friends Annie and Jean-Pierre Dupuis… Ten years after I studied at the Lycée Camille Giullian in Bordeaux as assistant Spanish, we first meet in Biarritz. They greeted us by opening doors Le Petit Puse, a town in the upper part of the city, not far from the lighthouse overlooking the coast, from where we so often hope to see Green thunder On the Sunset.
During the first visit, they showed us the iconic places of the city overlooking the sea. This small fishing village from which Evgenia Montiho He fell in love; Napoleon III ordered the construction of a Grand Palace for her and determined the success of this place, which became mandatory for the European royal family, reaching its splendor in the Belle Epoque. Today it still lives on in the image of the past, which, together with the boom in golf, thalassotherapy and especially surfing, make it an unrecognizable place in the summer, taken by tourists who doubled its population. Its beaches with big waves Le Rocher de la Vierge, then Chambre d'Amourare some of the oldest memories of that Easter 1980 trip. But also Rune, a mountain adjacent to the Atlantic Ocean and the first of the Pyrenees peaks, a symbol of the old Basque pastoral life, or open villages Ainhoa and Espelette, visit Arkangi, its Basque-style church with galleries and polychrome; next to her is the cemetery where she is grave of Luis Mariano…
Biarritz, by virtue of its position, for several years became a mandatory stop on summer trips to France with our children. When the children grew up, she, often alone, crossed the Castilian lands; 12 hours by train, from Galicia to Hendaye, where Dupuis was waiting for me. With them the space of Biarritz gradually opened up: from Biarritz to Bayonne, to the north. All Basque cornice, to the south: Bidard, Guethary, Saint-Jean-de-Luz, Sibourg, Hendaye and Biritau… Frequent walks and tours are also hinterland, like the day we spent in Saint-Jean-Pied-de-Port, where all French roads converge to lead to Compostela. Like some other pilgrims, we ended the day at Roncesvalles, the Spanish starting point. Always on horseback between the two countries, as we loved to live.
Some of these places bring back untouched memories to my mind. Itxassou, near the Pas-de-Roland, a charming village with a square, church and pediment; and in particular his restaurant du chen for the magnificent oak shining in the garden where we celebrated my fiftieth birthday and seventy years later Jean-Pierre. A small but large bookstore in the center of Biarrtis, a place that I loved to explore because, in its apparent clutter, it always gave me surprises. There I found Christian Bobin with one of his first books, La Part Manquante / The Missing Part. What about Bayonne? They made me discover my magic The great illusion and Bayonne under the porches, two books Miguel Sanchez-Ostis.
In the garden of a house in Biarritz, an old banana in front of the façade served for long summer days as a humble witness to the friendship that grew between a Spanish teacher in France and a French teacher in Spain and their compatriots. husbands. Under his shadow, in the quiet hours of the siesta, after coffee, followed by small armagnacdone by Jean-Pierre, newspaper reading gave way to congregation. We liked to comment on the news of the day; premises South ouest and Le Monde and Country… We did the same with the books we exchanged. I remember them La defaîte de la pensée / Defeat of thought from Alain Finkielkraut, that harbinger who knew so well what was about to happen. I especially remember the books of Semprun, the most beloved of us, two friends: Letter or life, Goodbye summer light.
Without you, dear Annie, things would be different in Biarritz. If life was generous to me in something, even if it took my loved ones prematurely, then it was with friends, with good friends whom she offered me. Life often does not understand plans or desires, when it says "it's over," it's all over. We, who share so many things, have not been able to implement any of our projects. We didn't go to Biriato. This place, which for Semprun symbolized his double Franco-Spanish identity, his views prevailed, encompassing both countries. What "double Je " / "double me" which we both felt too. Whenever I cross the border, I see a sign for Biriato, a detour of the truck, dear Annie, I think of you and that someday, on behalf of these two, I must go to Biriato.
…


Source link