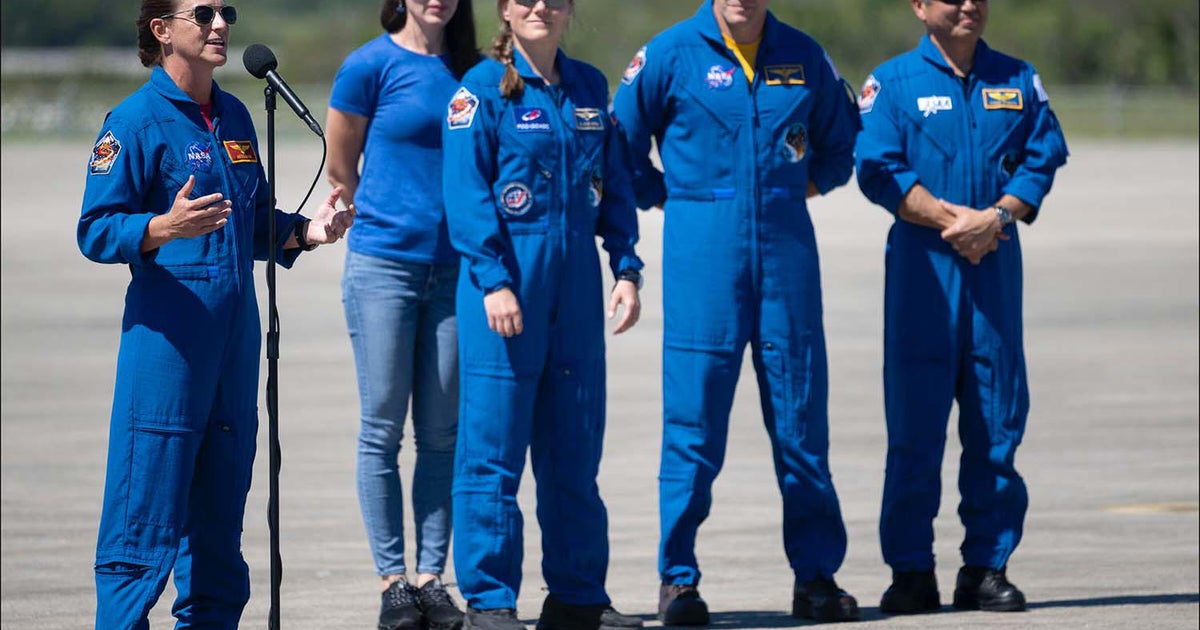 Two NASA astronauts, a Japanese space veteran and a lone Russian cosmonaut, flew to the Kennedy Space Center on Saturday to prepare for Wednesday's launch to the International Space Station aboard the SpaceX Crew Dragon.
Their Falcon 9 rocket was launched atop historic Pad 39A before dawn Saturday and was spinning vertically just after 12:00 a.m. ET. Minutes later, Crew 5 Commander Nicole Mann, Josh Cassada, Japanese astronaut Koichi Wakata and cosmonaut Anna Kikina touched down on the spaceport's runway after their flight from Houston to begin final preparations.
"First, my prayers and thoughts go out to all the people in Florida affected by the devastating hurricane," Wakata said. "I hope to brighten up the skies over Florida a little for everyone with this launch."
The astronauts plan to don their pressure suits and strap into the Crew Dragon spacecraft on Sunday morning for a dress rehearsal countdown. Later in the day, SpaceX engineers plan to test ignite the Falcon 9's first stage engines to verify their readiness for flight.
If all goes well, Mann and her crew members will actually strap in around 9:30 a.m. Wednesday to prepare for launch just after 12 p.m., when Earth's rotation will bring the rocket into the plane of the space station's orbit.
The crew will take about 29 hours to catch up to the lab complex, moving into automatic docking at the station's forward port around 5 a.m. Thursday.
They will be welcomed aboard by Expedition 68 Commander Samantha Cristoforetti and her crew of 4 – Kjell Lindgren, Bob Hines and Jessica Watkins – along with Soyuz MS-22/68S crew members Sergey Prokopyev, Dmitry Petelin and NASA astronaut Frank Rubio, who have arrived at the station 21st of September.
Wakata is making his fifth space flight, while Mann, Cassada and Kikina, the first Russian cosmonaut to fly aboard Crew Dragon, are space rookies.
Rubio's addition to the Soyuz crew and Kikina's addition to Crew 5 were the result of a recent agreement between NASA and Russia's federal space agency Roskosmos to ensure that at least one American astronaut and one Russian cosmonaut are aboard the station. always.
Without such an agreement, a medical emergency—or some other problem that might force a Crew Dragon or Soyuz to depart early—would leave the station with an all-Russian or all-NASA-sponsored crew without the expertise to operate another country's systems. .
Kikina said she was excited about the opportunity.
"I want to share my feelings with you," she said in broken English. "I really want from my side and everyone who made this incredible, incredible opportunity for me to be a part of our common, big something, for all of us. And to be a part of that big, for me , maybe for you, crew 5. Really I love my teammates, I feel really comfortable."
Kikina, who joined the Roskosmos Cosmonaut Corps in 2012, said she was stunned when she was told she was being assigned to Crew 5.
"My supervisors just named me and said, do you want to be part of Crew 5? Yes. Why not? But I was so surprised."
.