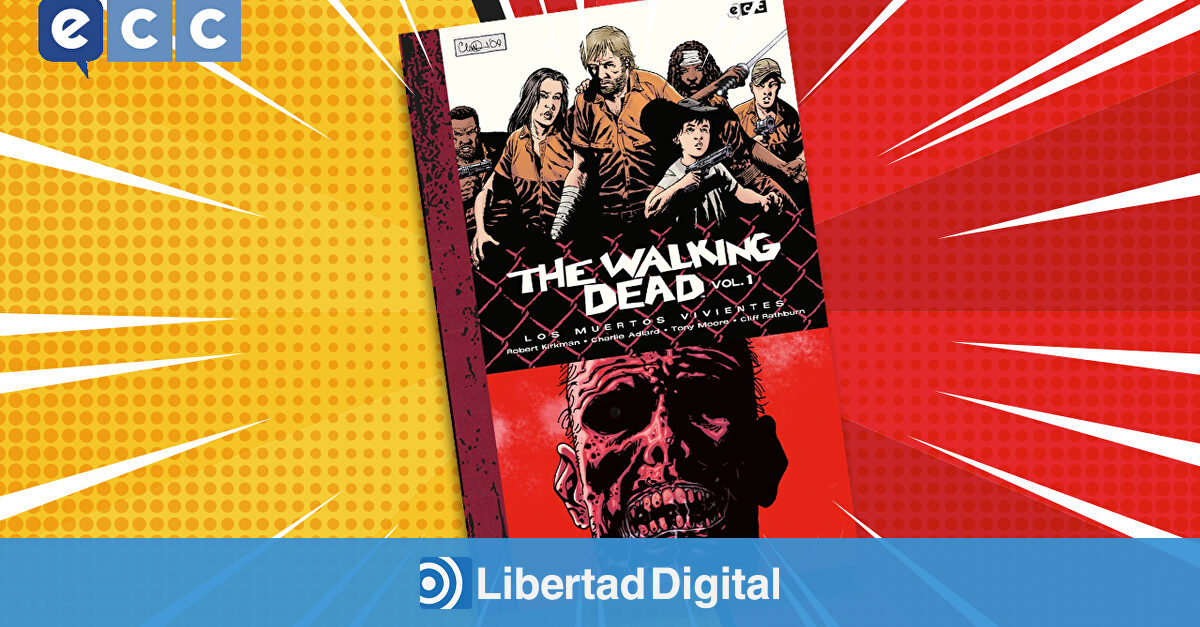 If there is a comic book that has become a benchmark inside and outside of the comic book world in recent years, it's The Walking Dead. Undoubtedly, many people hear this name and directly associate it, for better or worse, with a TV series that was a real boom when it came out, and which lost momentum over time, because for many, including me, everything was too slow. The Walking Dead has made it to the small screen and become universal, but its origin, as is often the case with great works that make it to film or TV, is in the pages of a book, in this case a comic book.
To talk about The Walking Dead is to talk about its creator, Richmond, Kentucky genius Robert Kirkman, who created this universe in which humanity is being devoured by zombies, along with a cop named Rick Grimes, who was in a coma after being shot, wakes up alone in hospital, not knowing what happened in the world and where his family is. In the review itself, and despite the fact that many already know the plot from the television series, we will expand the story a little more, but before that and solving the keys to this Deluxe, we go with the technical part of the publication. which, without a doubt, is the best that has been published to date.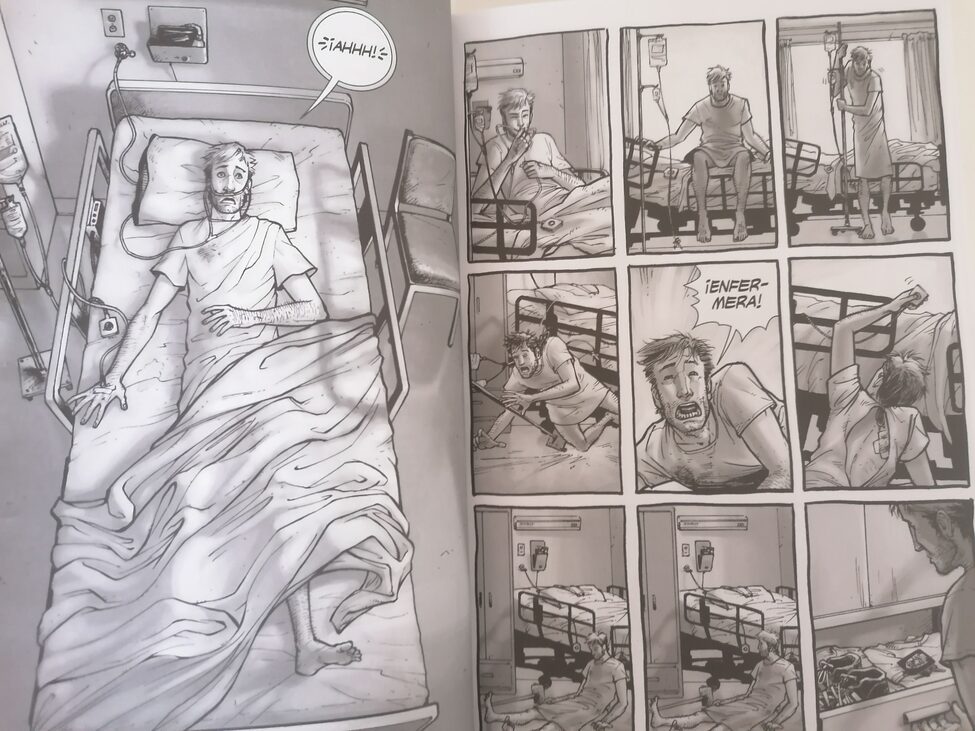 ECC brings us this volume, the first of nine, dutch-bound, hardcover, it contains The Walking Dead nos. 1-24, The Walking Dead: Covers, The Walking Dead Script Book no. 1 USA, screenplay by Robert Kirkman, drawing by Charlie Adlard and Tony Moore, 640 pages, black and white, priced at €65.
let's start the review
Genre Masterpiece: Zombies, Social Relations and Horror in Black and White
If there's anything that stands out in Robert Kirkman's work, other than the authentic black and white touch that gives the story and art a lot of personality, it's that we're confronted with a zombie story that at times fades into the background. Personal relationships and excellent character development are the main arguments in favor of this comic. The Walking Dead has always been characterized as a complex human work with impactful dialogue and vital moments that, in addition to being set in a world full of zombies, makes the characters part of the reader's closest circle. Translation: It's not just about zombies, it's about humanity, in every sense that the word implies, and Kirkman manages to make you feel like part of a group, suffer with them and cry when one of them is deprived of grace.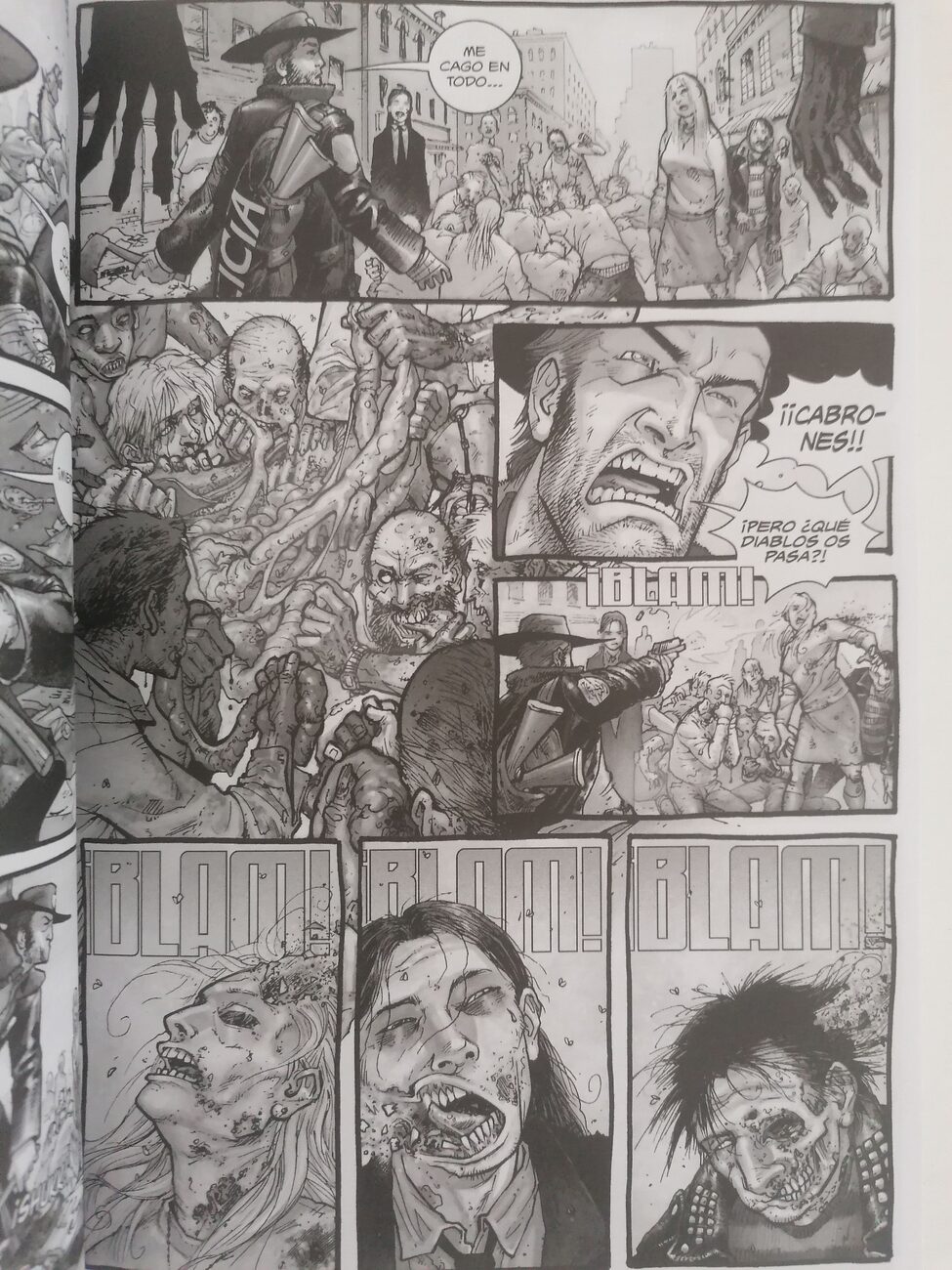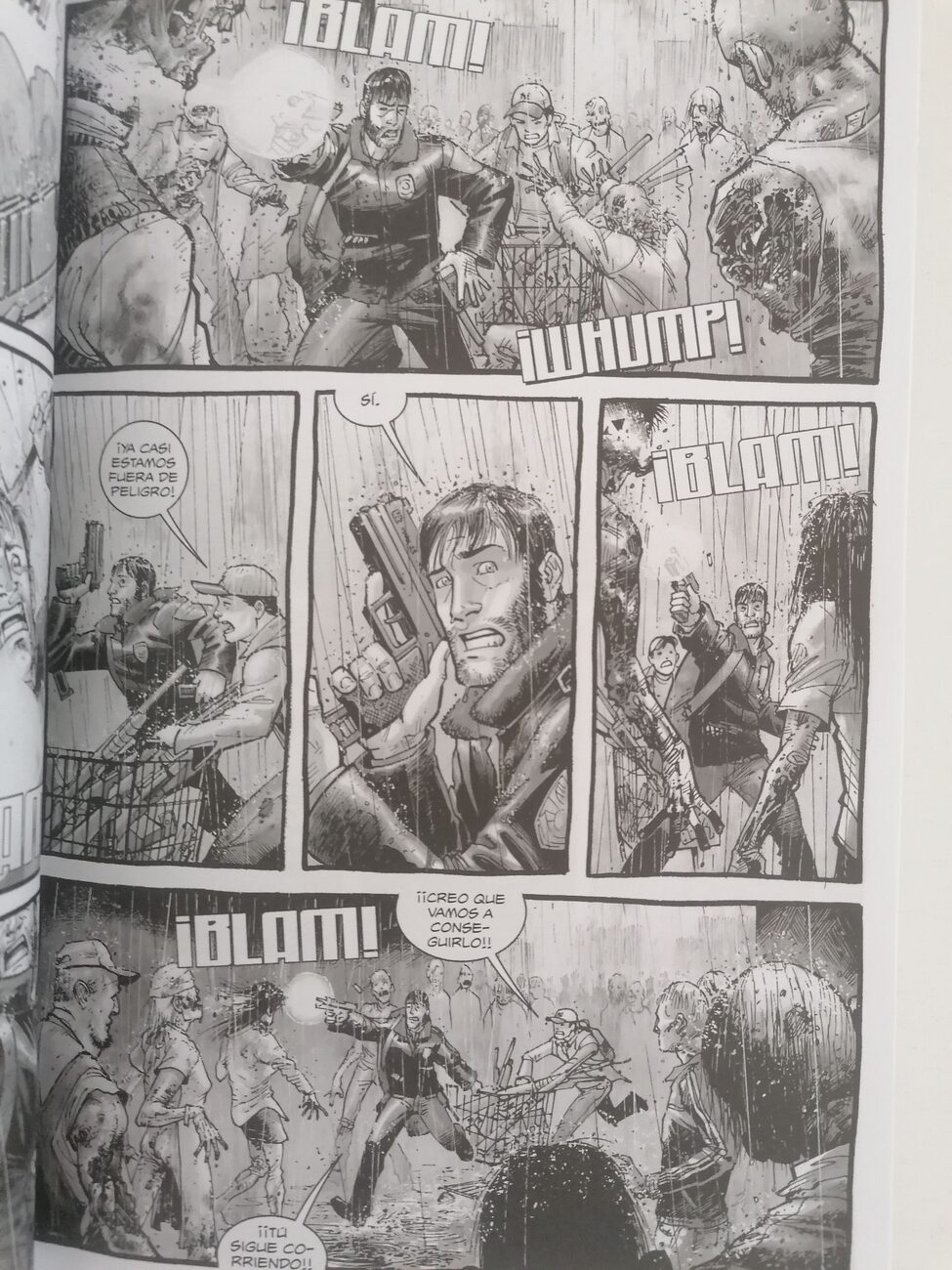 Returning to the plot, we find Rick, a comatose cop, who wakes up alone in the hospital and finds to his horror that a zombie apocalypse has struck. From there, and with all the world's doubts about what happened, Rick will search for his family, and when he finds one, he will join a group of survivors who make up a diverse group with all kinds of people and personalities. Horror, family, betrayal, drama, madness, action, small moments of humanity, tension, difficult decisions, death, mystery, leadership, enemies… it's all in this Kirkman work, which, as I said, goes beyond zombies. to even show us that in desperate situations, monsters are not only those who eat human flesh. In conclusion, this is a human work in a humanity devastated by the undead.
What are the differences from the series? Although, well, he would like to say the opposite, because the comic was before television. Let's leave that detail aside. For me, there is a fundamental and it is the rhythm of the story. The comics are interesting and always in a high rhythm. Don't lower the intensity. Get to the point. There is never a moment of respite, and when there is, you know that when you turn the page, you may find a magnificent vignette that will destroy what little peace the characters have managed to find. Even when the speech bubbles increase significantly in size, the quality of the conversations does not slow down the pace, but gives it more depth. This difference, in my opinion, makes the comic very hard to stop reading, while the show has been giving up for many seasons.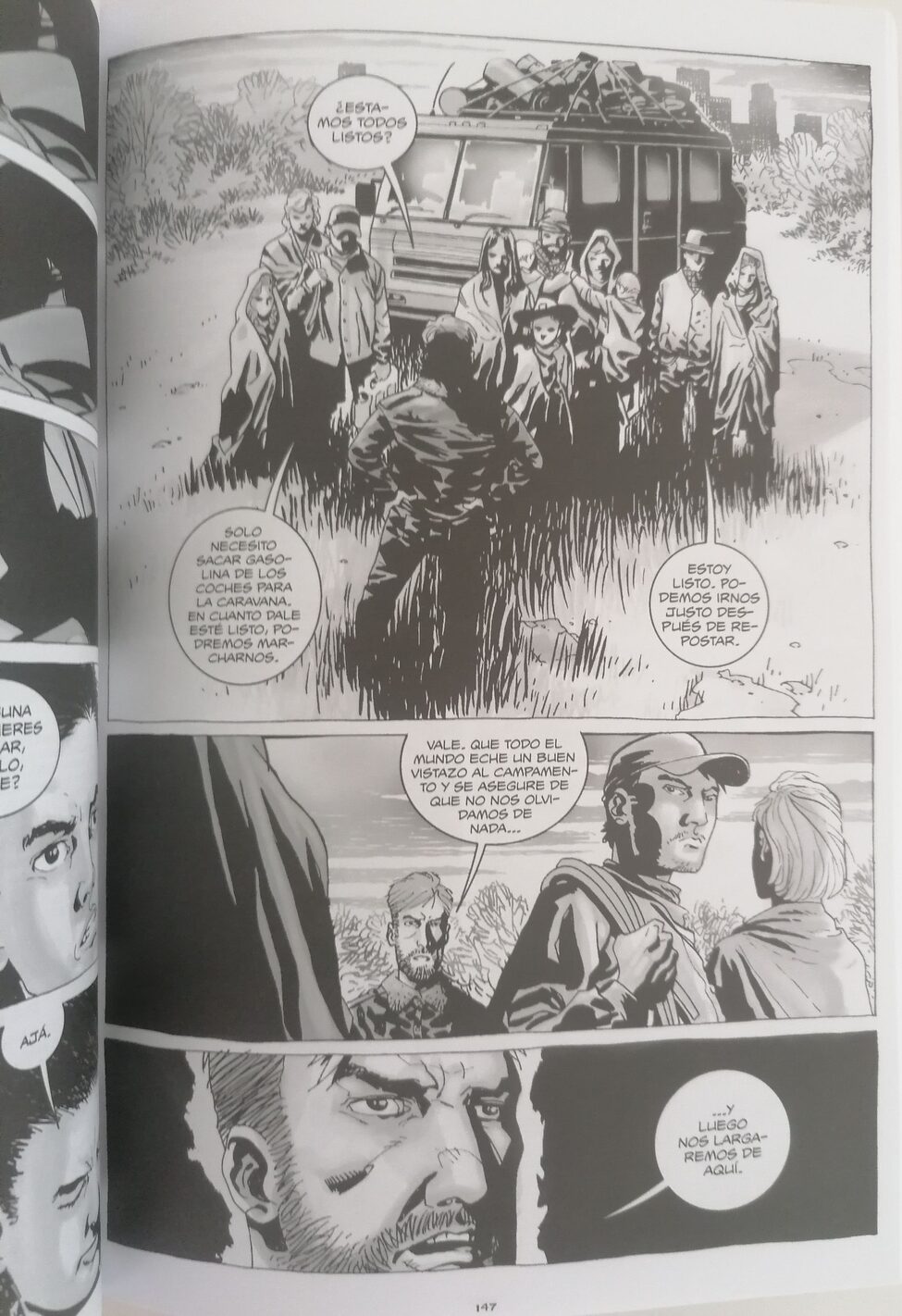 As for the drawing, there is nothing more to say, except that we have a masterpiece before us. In this volume, Charlie Adlard and Tony Moore make it clear that another strength of The Walking Dead is precisely the visual impact it has on the reader. Scenarios of all kinds are spectacular and captivating. The characters and their expressiveness in moments of panic and joy are exemplary. And using the original black and white, although there are color editions, is a success from start to finish. As far as tastes go, colors have never been better said, but I think the drama, horror, tension, and power of storytelling are perfectly matched with the play of shadows and light that black and white gives to those who choose it. If you ask my opinion because you don't know if this work is better to read in black and white or in color… well, no color, you can't say better.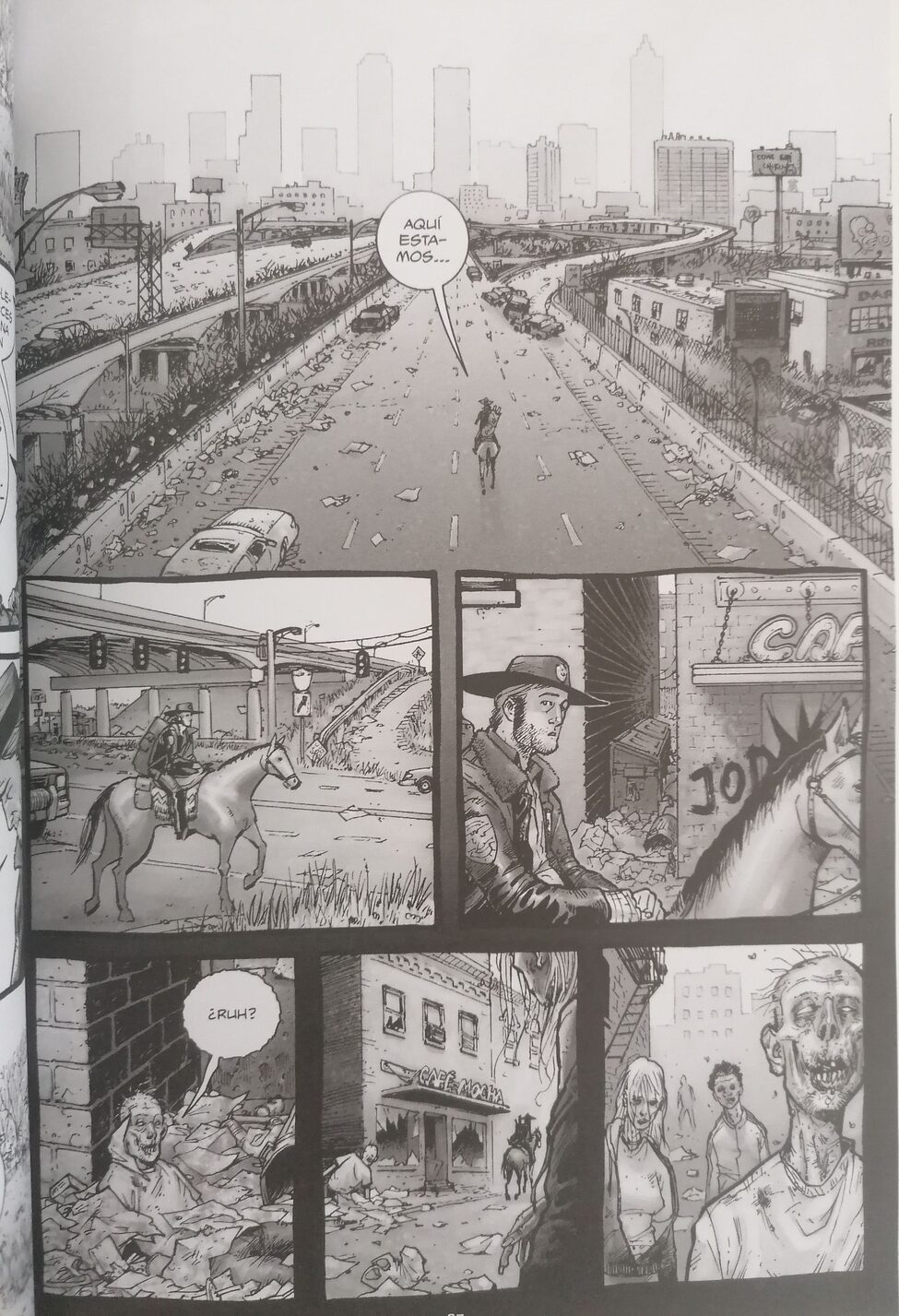 Deluxe Edition in all its glory
There are times when the term Deluxe for an edition is exaggerated. Included are four details, interesting additions, and more, but this edition gets that adjective right. Besides the classic and traditional touch that the Dutch binding gives us, ECC offers us a great publication full of numerous extras such as scripts and analysis of the authors of each chapter. In addition, the exterior and interior materials of this edition are the best on the market. This is the largest edition of this comic with the best paper (offset).
I'll show you some examples: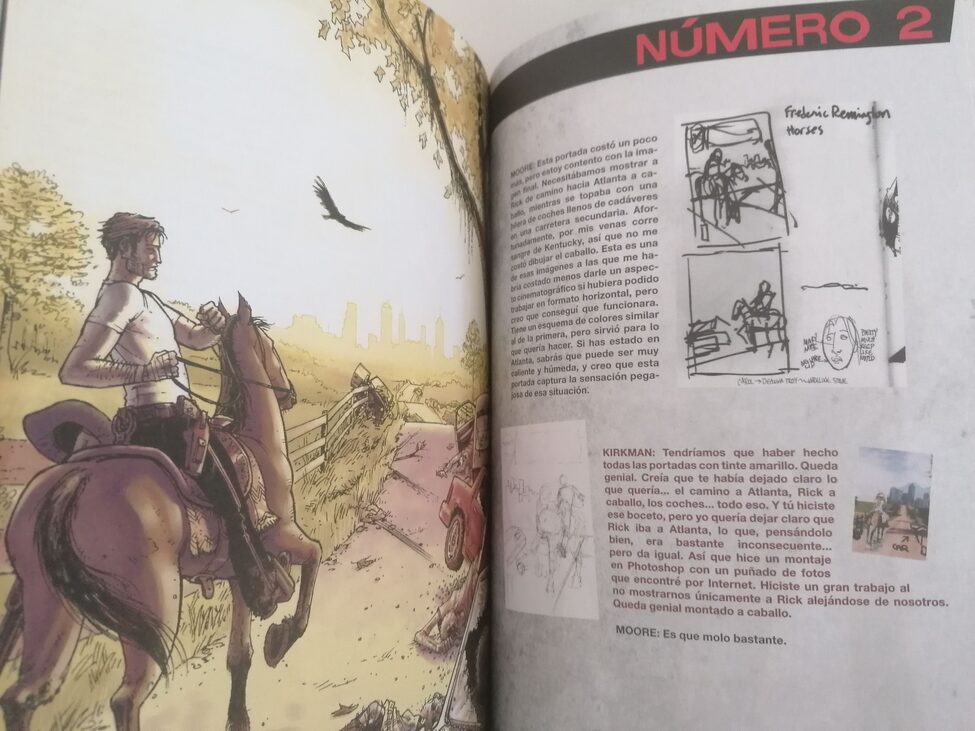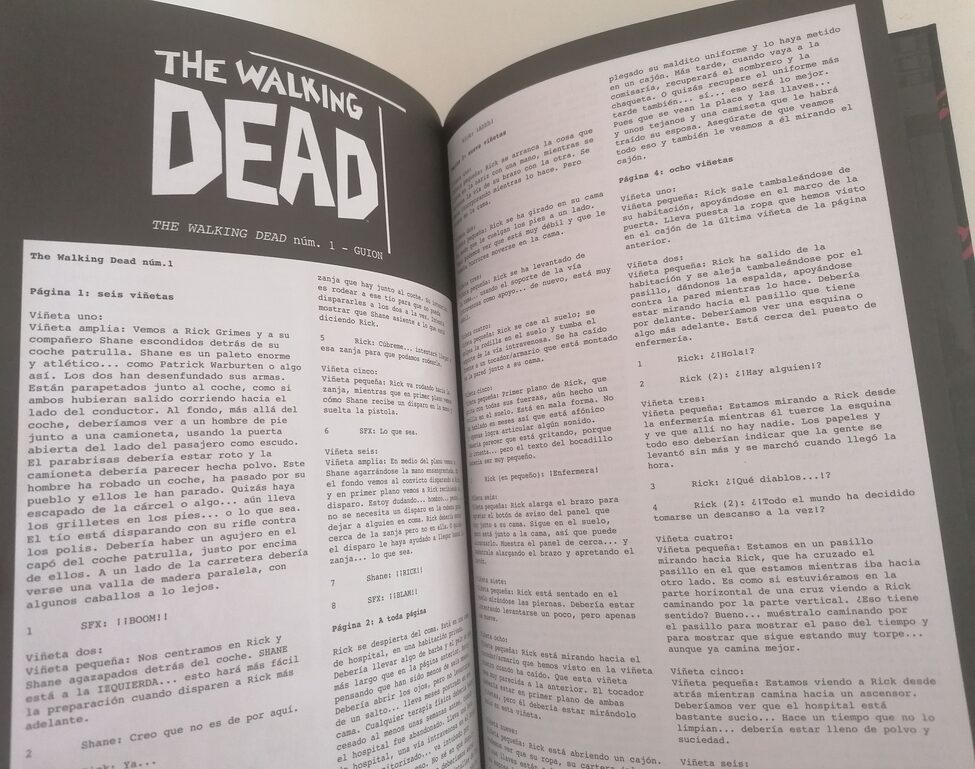 The price is not cheap, why should we deceive ourselves. They cost 65 euros and a total of nine volumes. But there is no better title on the market today than this, and less than a mythical masterpiece like The Walking Dead. Good things cost a lot, they say, and they are right.
Conclusion: This is a classic in the world of comics, both in terms of script and graphics, and ECC offers an excellent Deluxe edition that deserves the title. The content is worth it. His wrap, more of the same. We are facing the best edition of The Walking Dead ever seen in our country. It's worth it. Enjoy reading.
.