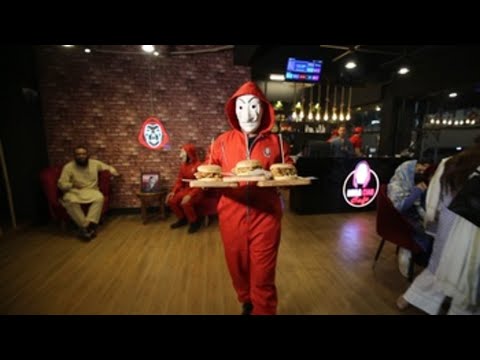 Islamabad (EFE).- With imported Dalí masks, handmade red jumpsuits and fake pistols, the recently opened 'Bella Ciao' cafe in the conservative Pakistani city of Peshawar is inspired by the popular Spanish series 'La casa de papel" from Netflix to attract customers and curious people.
Samiullah Khattak, the owner of this cafe, assured EFE that he and his family are fans of the Netflix series and were inspired to base their cafe on it and name the dishes after the characters, such as Professor burger or Nairobi steak.
"We did a low-key launch on October 29, and although we haven't launched the grand opening yet, the customer reviews are amazing," Khattak said.
"The paper house", a very popular series in Pakistan
The owner revealed he ordered the recognizable red jumpsuits from a local tailor, but had to import the masks from Dubai, completing the uniform of one of TV's most famous robbery teams with black briefcases in which waiters serve orders.
It has also decided to arm its employees with fake firearms, and patrons can pose smiling at gunpoint, though the sight of firearms is somewhat startling.
"It's scarier than we thought," Fahim Khan, a customer who came with his family, told EFE.
"We have 45 employees, 10 guns and three briefcases in the cafe," Khattak explains, before explaining that "Money Heist" remains a very popular series throughout Pakistan.
There were already several restaurants in the Asian country called "Bella Ciao" in honor of the Spanish series, using Dalí's iconic mask and naming dishes after popular characters, although none went that far. than that of Peshawar.