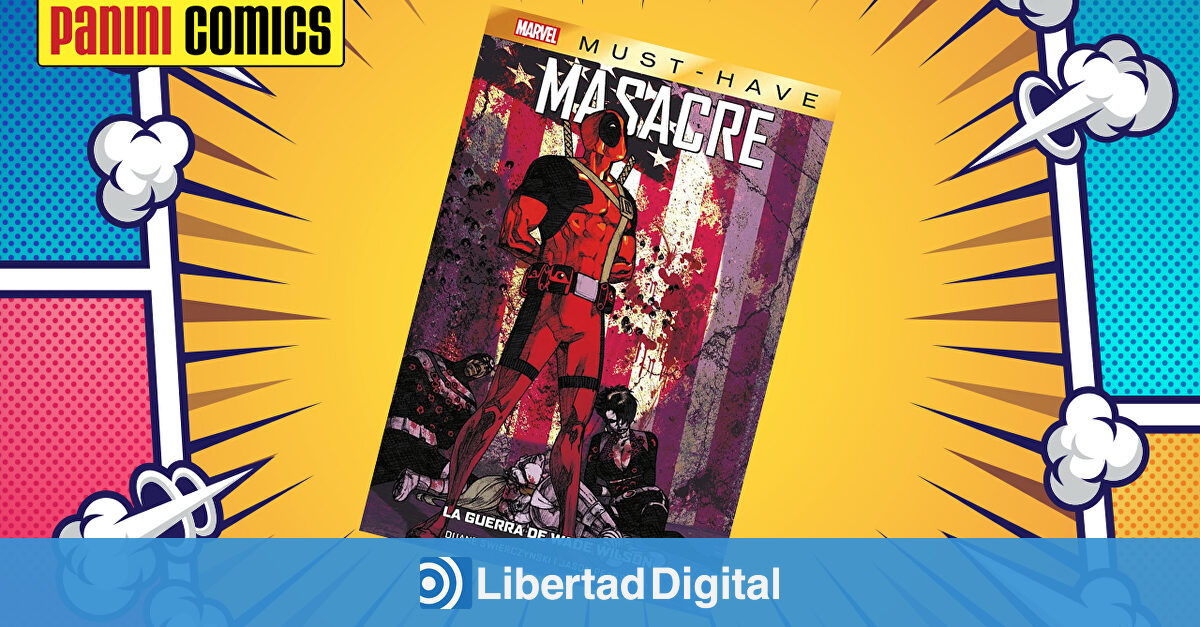 Massacre or Deadpool. What do we name the character? If you go through the history of comics, then the more traditional Spanish public will know the bully Wade Wilson as Masacre, since that is how Deadpool was translated in our country, but if you go back in recent years and to the film franchise led by Ryan Reynolds, it is logical to assume that Deadpool is the most famous name all over the world. So yeah, we're in the comics section and we're in Spain, so if it says Massacre on the cover… we call it Massacre.
Panini brings us yet another Must Have, this time from the most brash and thuggish superhero in the Marvel Universe. Before us is an entertaining comic, fraudulent and also very cunning, as I put it in the title. Now he's explained to you why this is a tricky comic, but first the technical section: script by Duane Swierczynski, art by Jason Pearson, 116 pages, hardcover, published by Panini, contains Deadpool: Wade Wilson's War 1-4 and the price is 15 euros.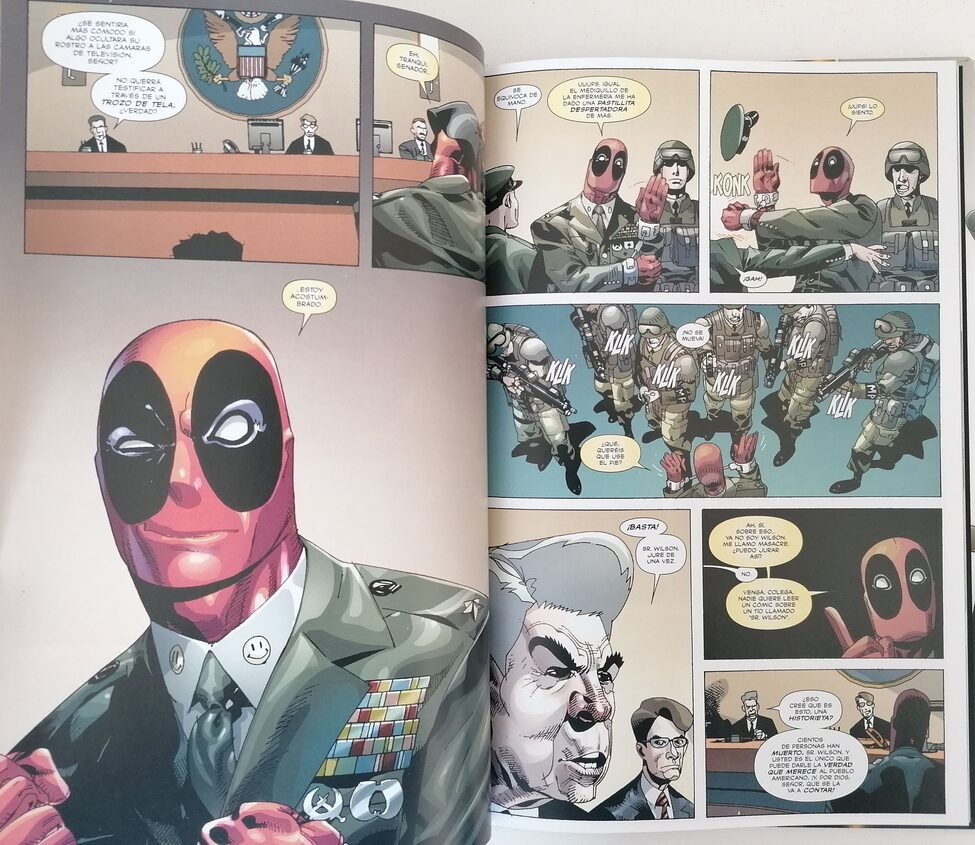 let's start the review
Breaking the fourth wall with the most manipulative Massacre
If there's anything that characterizes a Massacre comic, it's those moments in which a superhero walks through a triumphal arch, the distance between story and reader, and breaks the fourth wall to speak directly to us. In some cases, he does it briefly, and in others, as it happens, he interrupts on almost every page. Those familiar with the character already know this. In fact, much of its magic and its popularity comes from this break with reality.
In this story, we will see Masacre in full court, telling his version of the facts about the massacre that took place in Sinaloa and which he and the rest of the mercenary group to which he belongs are blamed. A group in which we can see Bullseye, the mythical enemy of Daredevil, Domino and Silver March. Wade will tell his version of events and his origin at the trial, that is, how he became famous from the Massacre comics. Surely he's telling us the truth? This is the great mystery of this story as there are two narratives: from Wade and from a former member of the task force that allegedly created Massacre. The reader will have to decide which version he chooses, and we will see panel after panel of how the same story can be told, leaving Wade as a hero or a crybaby.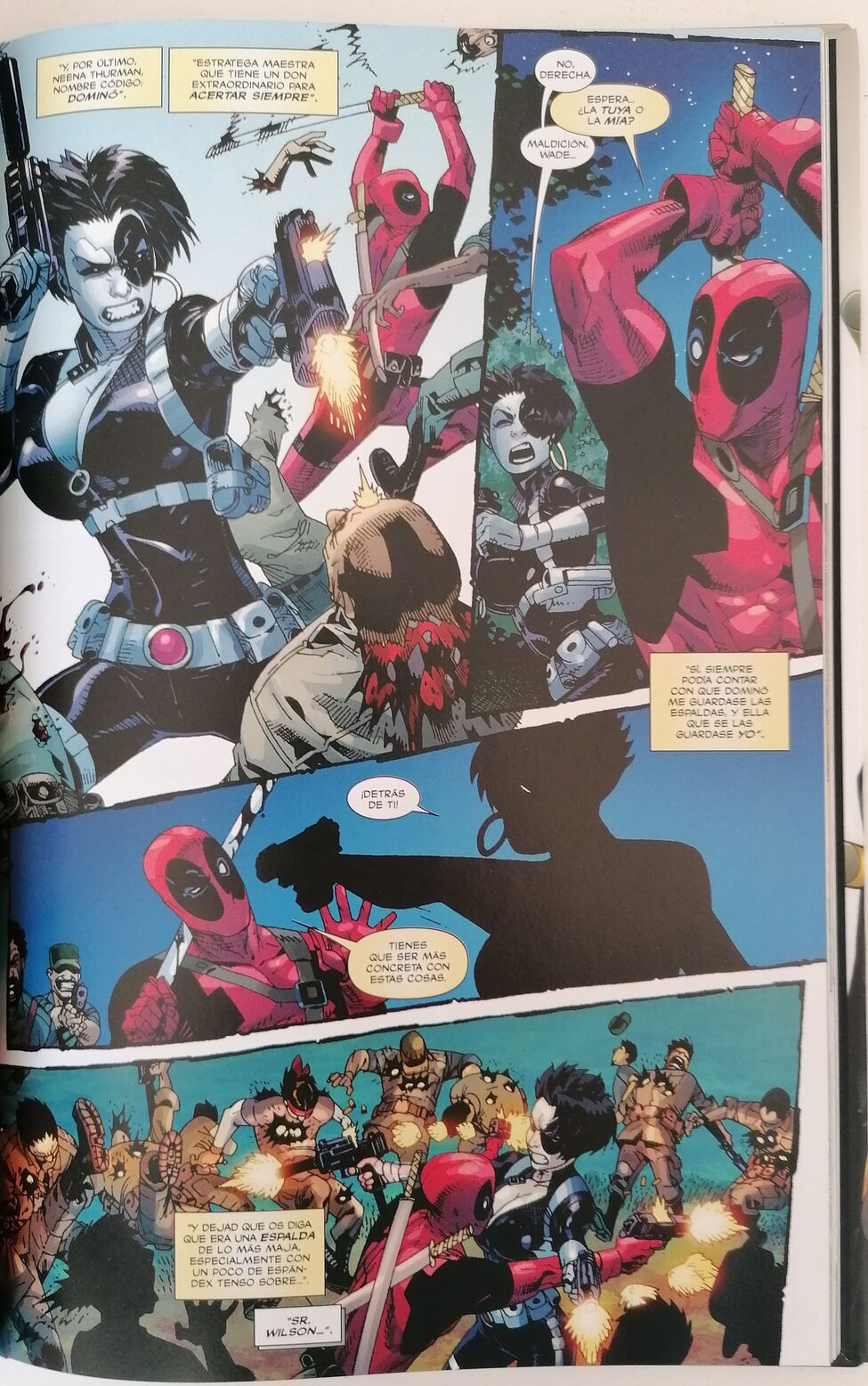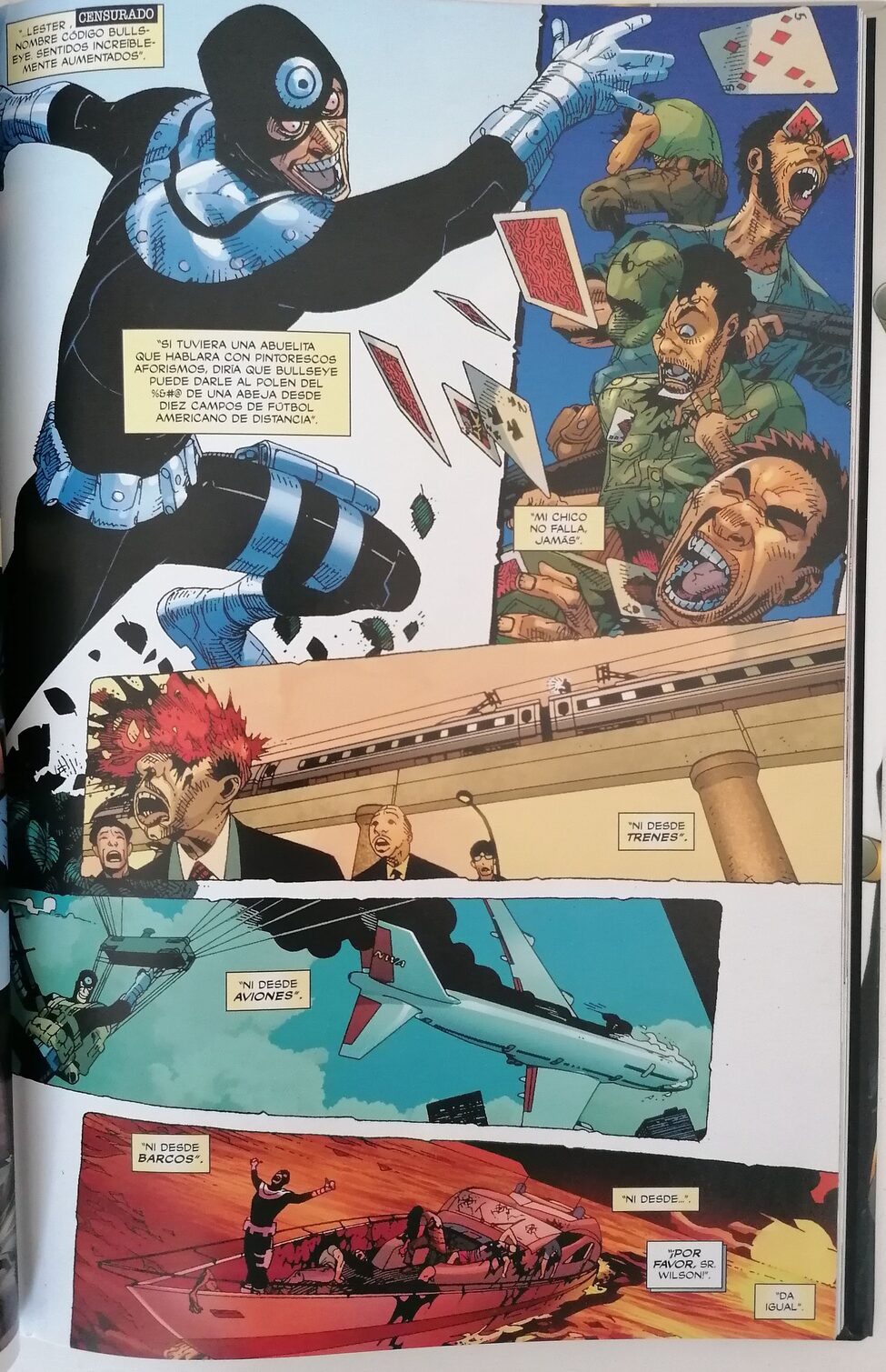 History, in addition to being hilarious, funny and violent, will constantly play with us to test us. Is what we see true, or is Masacre making it up? Is this really the reason he became Deadpool, or is he manipulating us into believing that his transformation was similar to the one Wolverine underwent in Weapon X? That's the magic of this screenplay by Duane Swierczynski, whether or not he's deceiving the reader about the origin of Carnage. That's why I say in the title that this is a joke comic, but this is a trap that catches you and entertains you.
Be careful, the scenario is bully, but it includes such elements of reflection as the involvement of the US government in all this. Masacre will constantly fluctuate in strength and dedicate more than one political dart to them from past wars. His constant teasing of the senator who heads the commission of inquiry is one of the best in the comics and gives him that touch of humor that every massacre story needs.
In terms of graphics, Massacre needs spectacle, explosions, blood, battles, carnage, sword duels, point-blank shots, and everything that can be imagined within the category of outright violence. Jason Pearson gives you everything in 116 pages of this comic, and he also does it by drawing on pop legends or even hinting at movies like The Matrix. I leave you a few examples.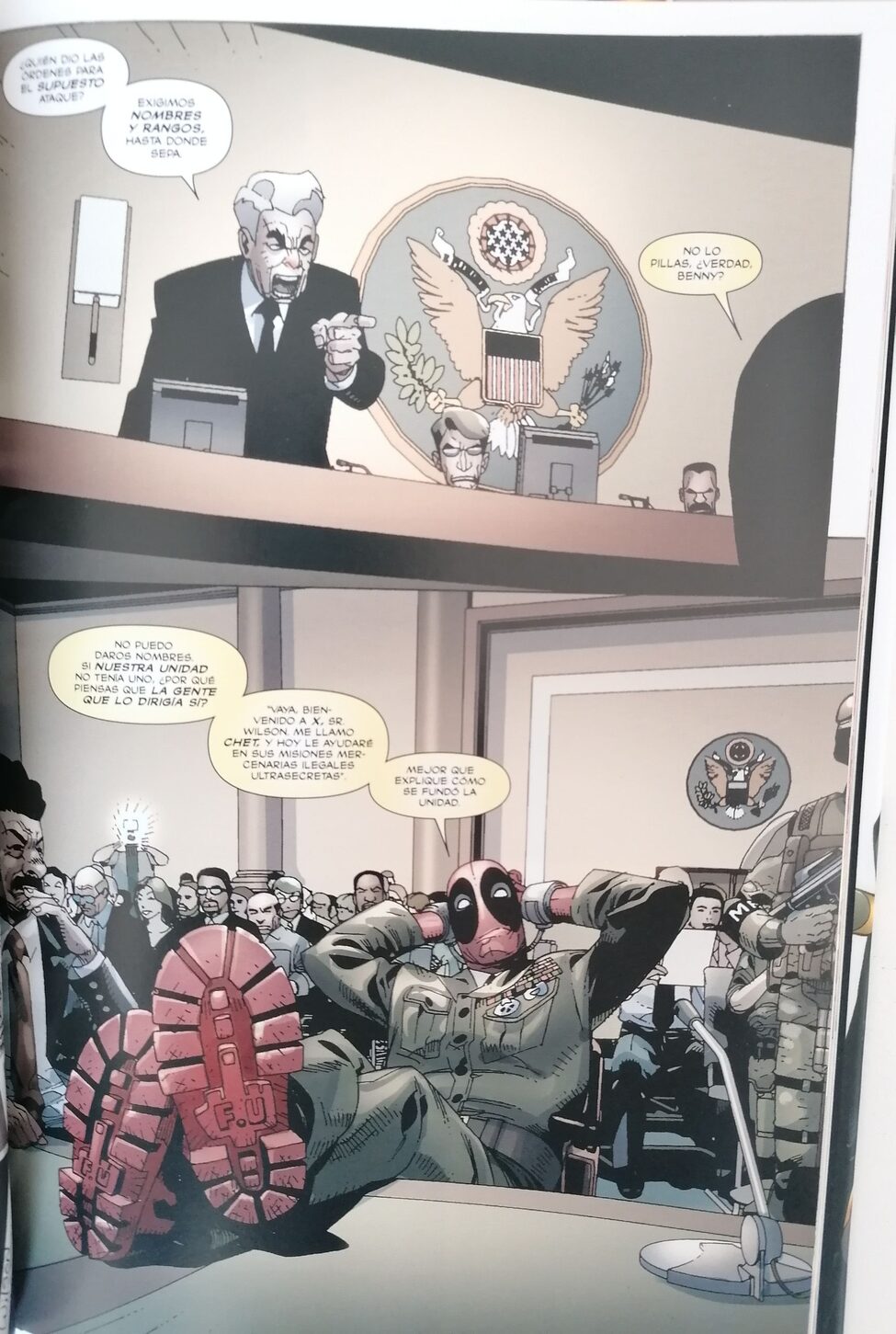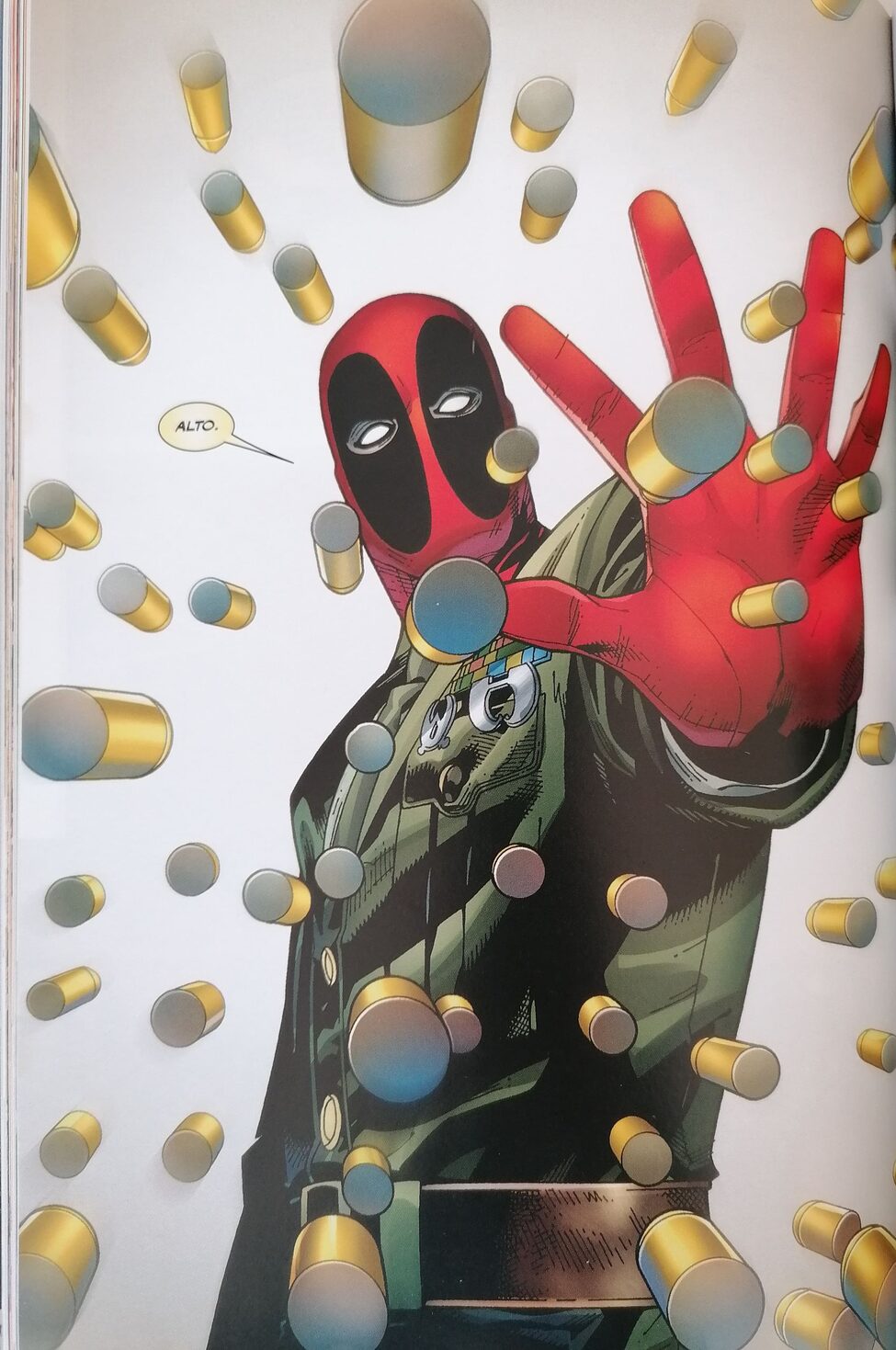 Conclusion: A very entertaining comic, rowdy, well-drawn and humorous, that won't disappoint. The best thing is his cunning side and the fun and constant manipulation he subjects the reader to. Worst of all, if you can say something, that it is short. There are four staples and after some time at home you can finish this. Enjoy reading if you like.
.