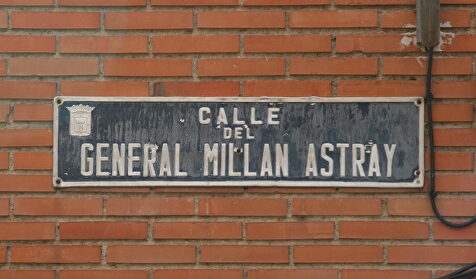 V City of Madrid restored street signs General Millan Astray, whose name was changed to Maestra Justa Freire in pursuance of a decision by the High Court of Justice of Madrid, in which the founder of the Spanish Legion was removed from the Law of Historical Remembrance.
The Madrid City Council, with Manuela Carmena as mayor, approved on 28 April 2017, with PP abstention and with the support of Now Madrid, PSOE and CS, the renaming of 52 streets from Francoist memories in the application of the Law of Historical Memory, including the Law of General Millan Astra. Individuals and associations such as Millán Astray platform and the Francisco Franco Foundation appealed against the measure.
The Madrid Supreme Court (TSJM) has decided to restore the original names of some of the modified streets, such as General Millán Astray (changed by teacher Equitable Freire), Blue Division Fallen (11 March 2004 Memorial), Hermanos García Noblejas (Avenida de la Institut Libre de Ensenanza), El Algabeno (Jose Rizal), Crusero Baleares (Barco Sinaia) and Cirilo Martin (Ramon Gaia) roundabout.
In the case of General Millan Astray, the TSJM indicated that "already in 1923 it bore the name of a square in Madrid" in recognition "of its intervention in the war in the Philippines, for the fact that it was founder of the Spanish Legionand also for his wounds in battle, "and that he did not" intervene "in the military uprising and did not" take direct part "in the Civil War.
Sources in the Madrid City Council confirmed to Efe that there is other streets are awaiting change by final decision, what will be done "when the company in charge gets the numbers."
"Millan Astray returns to the streets of Madrid, and Justa Freire leaves. The decline continues in all areas. Almeida is using August for these crimes, "Más Madrid spokeswoman Rita Maestre wrote on Twitter. In addition to Mas Madrid, Podemos' spokesman for the Madrid Assembly, Carolina Alonso, criticized the change as "shameful": "I'm embarrassed not to abide by the memory law, but put the street on this killer has no passage (…) Her name was already Maestra Justa Freire. The city is dirtier than ever. "