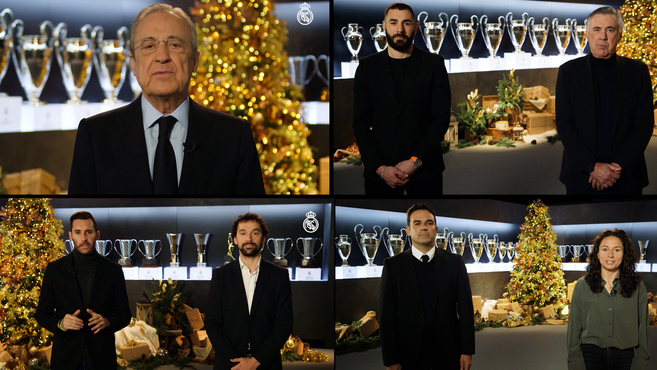 With the big day almost upon us, Real Madrid have published their traditional Christmas message with president Florentino Perez reiterating that the club want to make all fans of every Los Blancos team proud.
The Real Madrid men's football team end 2021 sitting atop the LaLiga Santander table, while the women's team are fighting for a top three spot in the Primera Iberdrola. While the basketball team sit second in the EuroLeague regular season standings.
"We send you all of our affection and solidarity," Real Madrid president Florentino Perez said.
"We at Real Madrid send you all of our affection and solidarity at this very special time of the year. These continue to be tough times in which we wish to send you all of our strength and encouragement, particularly to the most needy.
"We want to issue a message of hope that we will return to the normality we're all keen to see. We're certain that we'll overcome this challenge and continue to share much joy and many successes.
"We're committed to continuing to work hard to make all madridistas proud of our teams and to allow us to continue to enjoy more triumphs and trophies. Merry Christmas and may the new year bring health, work and happiness for all."
Real Madrid coach Carlo Ancelotti was also on hand to offer his best wishes and again point to exciting times ahead for the club.
"We wish you a Merry Christmas in the company of your families and loved ones," Ancelotti said.
"We share the excitement and hope of enjoying our dreams together with every member of the madridista family. Merry Christmas and a Happy New Year to you all."
Vice captain Karim Benzema, standing in for Marcelo who had tested positive for coronavirus, offered a message of strength and encouragement ahead of the new year.
"On behalf of the squad and at this very special time of the year," Benzema said.
"I want to send you a message of strength and encouragement. We're going to work together to try and accomplish all of our dreams. Merry Christmas and a Happy New Year."