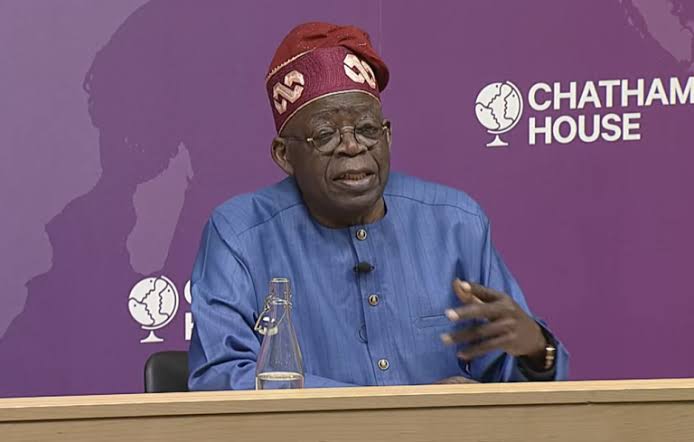 Blaqbonez imitates Tinubu's exit from Chatham House (Video)
A video has surfaced online in which Blaqbonez, the rapper, appears to be impersonating Bola Tinubu, the All Progressive Congress (APC) presidential candidate ahead of the 2023 election.
On December 5, Tinubu spoke at Chatham House in the UK.
Speaking to the media, the former Lagos governor discussed his plan for Nigeria and also answered questions about the controversy surrounding his age and his refusal to attend the debates.
However, he asked some people on his team, including Femi Gbajabiamila, speaker of the house of representatives, and Nasir el-Rufai, governor of Kaduna, to answer questions on his behalf.
His action sparked reactions on social media, with many users questioning his decision not to answer all the questions himself.
In the now viral clip, Blaqbonez was seen in an interview session. They asked him to address some of the issues raised on 'Young Preacher', his latest album.
"On the 'Youg Preacher' album, you touched on some deep themes. Can you mention the relationship between your dad and your mom? You also talked about the state of your bank account and didn't try to impress people… what inspired that level of vulnerability for you? asked the interviewer.
In his response, the rapper asked two members of his team to answer the questions.
"Regarding the relationship status between my mom and dad…I came with DJ Xquisite, I think he will be able to answer that, and about the status of my bank account, and what inspired that level of vulnerability, you know, I came with my producer, Ramoni," he replied.
As his team members answered questions on his behalf, the 'Back in Uni' singer was seen shaking his hands, in what appeared to be a mockery of Tinubu.
abegwetin @BlaqBonez try to imitate around here 😂😂 pic.twitter.com/16qPIJzGH8

– BOD (@bod_republic) December 11, 2022
hip hop rn pic.twitter.com/DNI0JYJ37V

— Emeka The Stallion 🐎 (@BlaqBonez) December 2, 2022