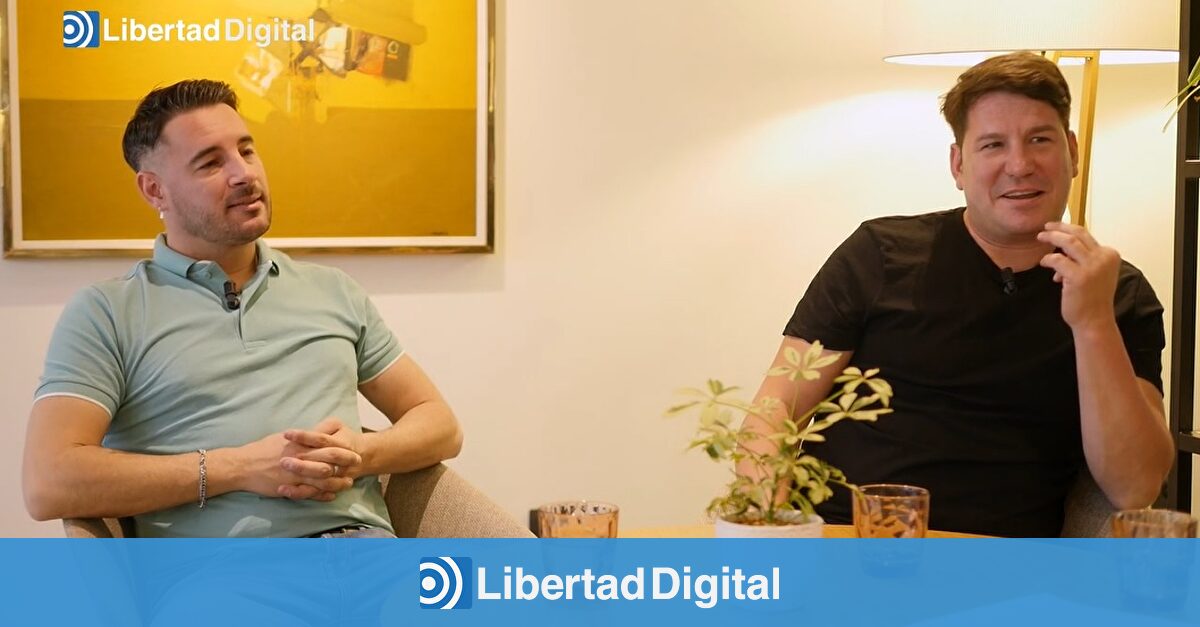 20 platinum records, 40 gold records, 10 million viewers, two million albums sold… 20 years have given a lot in the career of Cadiz duo Andy and Lucas, who are preparing a very special album to celebrate two decades of their creativity. "What a privilege"Lucas exclaims during an interview for LD.
In the month of November 20th Anniversary Special Album in which all his greatest hits will be collected, as well as an unreleased track "I'm going crazy". And that's "not going back in time," Andy comments. The title comes to mind given the circumstances and the way the world works. But the song is about a failed high school relationship. Love that could be and not be, perhaps because there was no time.
back to school
For the artists from Cadiz, this is much more than a song, because they took advantage of the recording of the video clip to return to what was their high school, in which his class went and "remember times times"Andy thinks. "Yes, indeed, there might be some of my chewing gum under any table," Lucas jokes. "The lyrics mark that path," he explains, "and we wanted this video to also wink at the younger audience."
When they look back, they experience a "little nostalgia", but it suddenly disappears when "images that are there"Andy says between laughter. "The start was very bad". According to Lucas, he uses a "trick" to prevent the same thing from happening to him a few years later: "going to interviews in a basic t-shirtthat will never go out of fashion." The truth is that on a date with LD He comes in a simple black short-sleeved T-shirt and jeans, he put it into practice.
20 years of great success
In styling, everyone goes to their own style. But when it comes to their music, they are both in one. They try to be guided by common sense, be consistent and guided by the heart. It's a way to make no mistakes and get through the skin with your songs. It's impossible to like songs "Hands of the World" or "And in your window"that convey an important social message.
Songs that are hymns and that have remained in our collective memory. This also happens with some of his great themes such as "Sound of Love", "I loved her so much", "Look in my face", "little red mice" or "brown face". Themes that will take on a new dimension on the new album through collaboration on the album. For now, they can tell us that they will: Paco Candela, Omar Montes, La Hungara, Camela, Los Rebujitos and Abraham Mateo.
positive balance
It could not be otherwise, because they are still here after 20 years. The balance says yes even though they admit that everything was. "At the end of the day, this is the life of two people, and it's more like how we live, which is frenetic. There are days when you feel better and others worse, when you have personal problems and even at work," says Andy.
"The balance is good, because after so many years, what is the world of music and survived the crisis, now the pandemic and still able to say that I live by what my job is, by what I likeare big words, he adds. "We who have experienced it know what it is worth. So it's appreciated."
It is difficult for them to choose one thing, to choose the best of these 20 years of Andy and Lucas' history. "There are many things. We have met many people while traveling, the fact that your songs are sung or sung by the audience… The truth is it's comforting", clarifies Lucas, "and if on top of all that it helps financially, well, you're welcome."
May be his thorn is stuck be the one that has not crossed the pond before, although it seems that they are taking it away. "Little by little we are trying to capture more of the American market, and we are doing well. But maybe in a different era, if Andy Lucas' career had gone better, we could be very well located in the United States"- comments Lucas. However, they do not mind to go "pick and shovel" if that's what they need to do. "If fate wanted it to be at this moment, then let's go now."
Every thing when it touches
Perhaps this is one of the lessons the pandemic has left for many of us. The time they took advantage of to do everything they were not capable of at other times in their lives. "spend more time with our children or learn something around the house that I didn't suspect, Lucas admits. "I changed all my wardrobes, learned how to clean the shutters and gratings, mow the lawn…"
He is followed by Andy, who feels very proud of what I have"learned to wash (in the washing machine), although "there are people who laugh." "A lot of people say they can wash, and a white shirt comes out pink," he insists. "Learning not to wash, but to get the perfect clothes," he defends, until Lucas can't help but laugh.
Fortunately, the worst time of the pandemic has passed and they have been able to return to their normal activities. At the moment they are busy recording a special album dedicated to the 20th anniversary of the band and are embarking on a tour that will cover the entire Spanish geography. The tour they undertook with such zeal that they almost perform "the entire repertoire" at every concert.
Read more in video interview.