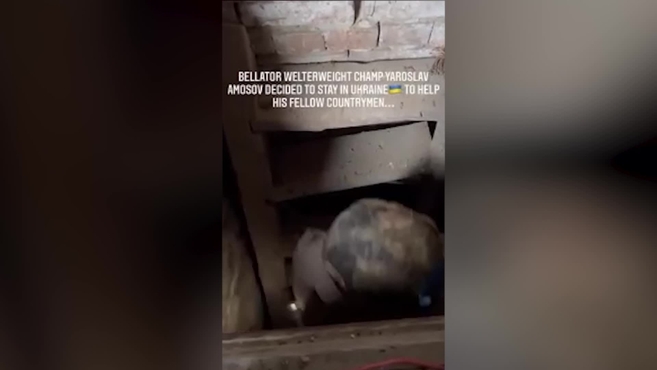 Yaroslav Amosov is one of the many elite athletes who have joined the army protect your country from Russian invasion.
28 years, Amosov is one of the biggest stars in mixed martial arts (MMA). With a record of 26 wins and no losses, he is the current holder Bellator Welterweight World Championship Belt.
Amosov received the much coveted belt on June 11, 2021 when he defeated the Brazilian Douglas Lima unanimous decision.
The Ukrainian took the belt to his home in Irpin, on the outskirts of Kyiv, and instructed his mother to put it in a safe place when Russia announced the start of its operation in Ukraine.
His house was bombed during the war, but Amosov managed to go there and return the belt, as seen in the video he posted on Instagram.
"A belt with a great history," he wrote.
"Now I won't give it up. Mom hid him well and he survived the bombing."
The reigning welterweight champion refused to fight Michael Page May 13th in London as he "actively defends his country", and Bellator will respect his decision, which means he will keep the belt.
"Like the whole world, we were shocked by the tragic events in Ukraine and the thoughts of all those present. Bellator-MMA are with Yaroslav and all the Ukrainian people at this time." Bellator-MMA the president Scott Cooker says in the statement.