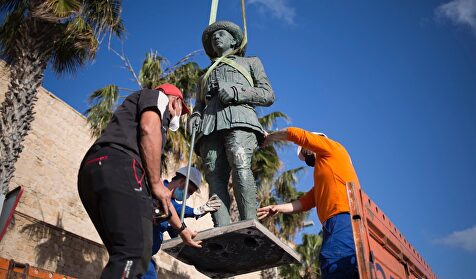 Two specific issues affected the removal of the statue Francisco Franco in Melilla last February and sparked controversy. First, the obvious fact that the image was dedicated to his African period and, in particular, his important role in the defense of the city after the events of 1921, which took place long before his work during the Civil War and its subsequent status as a dictator. … This is stated in writing in the Melilla City Council Act 1977, which, according to the Millán Astray Platform, proves that the statue were not affected by the law of historical memory… The second is the inconsistency with the socialist minister of education and culture of the Melilla government. Elena Fernandez Trevinho, which would have recognized in the document that the monument was part of the city's designated area of ​​cultural interest.
The advisor's compliment in this document, in particular, tried to justify the fact that the statue, lacking the personal protection that all goods classified as items of cultural interest receive, could only be classified as "movable property more" just as important like any "bench or lamppost" placed there. "This sculpture, despite being in a historic site, has been declared an object of cultural interest by Royal Decree 2751/1986 of December 5, by which it has been declared an object of cultural interest –with the category of historical monument-, the area of ​​the city of Melilla, itself is not declared an object of cultural interest as a monument, therefore it enjoys the same protection as any other object located in the aforementioned historical complex, "the document says. The analogy of a bench and a lamppost was used by Fernandez Trevigno in a public presentation aimed at explaining the removal of the statue. In it, the adviser hinted that they could have removed it without much hesitation, "like a lamppost. deleted ", but because of his" importance "and" deserved respect "they decided to refer the matter to the" full commission. "
In various statements collected by newspaper Cause, representatives of the Francisco Franco Foundation and the Millana Astra Platform have made their complaints public. Both organisms went to court with a claim to replace the monument and they denounced the various difficulties in collecting all the documentation that illustrates what the executive's decision was based on. Guillermo Rocafort, secretary of the Millana Astraya Platform, says he has three resolutions from the Transparency Council that require the Melilla government to provide them with this information, and adds that Fernandez Trevigno's words, assuring that they have already been adopted, are false: for He would only receive a series of emails in which orders to remove the statue could be read.